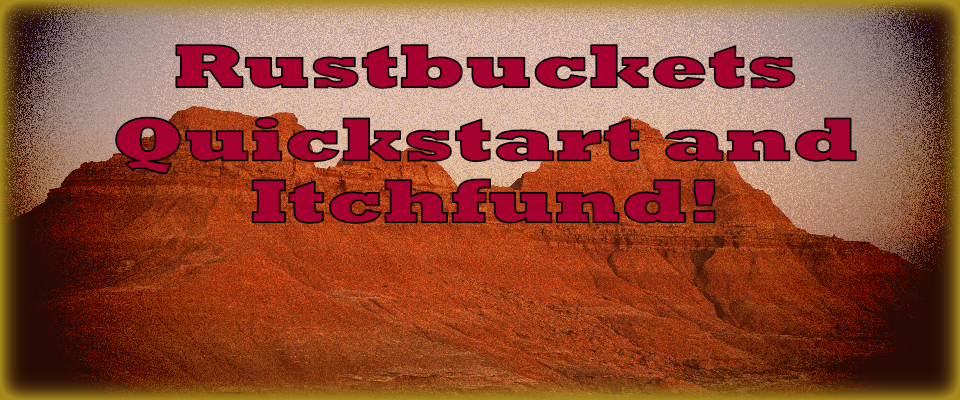 Rustbuckets QuickStart

Welcome to the Rust! In this game, Illuminated by the LUMEN SRD, Rustbuckets promises action, excitement, and mech action. Rustbuckets is a game inspired by Mad Max, Pro Wrestling, and, well, Mechs. Set in a blasted, mysterious wasteland and watched by ever-present eyeball robots who give out missions for money, the Rustbuckets pilot their mechs and unleash their special powers against dangerous foes. This game is fast-paced and highly customizable. Not only do you pick your powers and class, but you also pick the gear, called Parts, that your mech wields. This is the Quickstart for the full game, launching soon, and it contains everything you need for exciting mech action throughout the Rustlands. It is also currently itchfunding, with more information down below! If you like this or want to give your feedback, you can leave it here or message me on Twitter @ret0rox! Hope you enjoy!
And, of course, a massive shout-out and thanks to @GilaRPGs, the creator of Lumen, for this SRD! They do excellent work that you can see at https://www.gilarpgs.com/ and, if you're looking at this before July, you can check out their Kickstarter for Nova https://www.kickstarter.com/projects/thegilaboy/nova-2
A quick note: You might notice that this game is on sale for $10.10. This is just so we get a fun little bar at the top of the screen that tracks progress! Don't worry! And if $10.10 is too much, check out the Community Copies!
What's In the Quickstart:
-18 Pages of Content
-4 Classes, the tough Powerhouse, fast Blur, crafty Tinkerer, and ego-centric Showboat and their Character Sheets
-Parts and Tags lists to build out your dream mechs
-All the Basic Rules to Play the Game, including making characters, going on missions, and rolling dice
-A setting outline/description for adding flavor
-Explanations of all the current mechanics
What's In the Full Game:
-At least 20 extra pages
-Art
-3 More Classes, for 7 total (Not Counting Funding Goals
-More Powers
-Character, Haven, and Mission Examples
-More tables for Parts and Tag
-Rival and NPC mechanics
-A more detailed setting!
-More enemies
-New and Strange Places in the Rust to Explore
Itchfunding: This game will be coming out in full in a few months, at which point, this Quickstart will become free. The full game will be longer, more detailed, and have everything from a more detailed setting description to more classes. Until then, however, the Quickstart costs money. Don't worry, if you pay now, you'll get access to the full game, at no extra charge. So, why pay now? Simple, by paying now, you are giving me money to make the game better. If this game funds, it'll bring on an actual layout artist in the great mv (@mayvisit) to make it look good. I'll also bring on some artists for a little bit of art! So, if by August 30th, this funds, expect the full version hitting around December. Now, $650 dollars is a lot of money, but to help along the way, smaller things will be unlocked (like a few more classes), which will make it seem even better. For updates, check this space or see my Twitter (@ret0rox). If you do back, please tag me and let me know your thoughts! Thanks again!
Funding Goals
1. $100: A great amount of money! Unlocks a short Haven guide (10ish pages) that'll contain more detailed descriptions of a few Havens, some notable characters, and possible Missions along the way. FUNDED!
2. $250: New Class, the Rookie, a new Rustbucket with unique skills, but a lack of experience.
3. $325: Halfway there! Unlocks a new Class, Haven, Parts, and sample Mission, all themed around a classic Lumen figure, the Crow!
4. $500: Amazing! Unlocks an Adventure, with new Havens, Missions, and Parts, taking place in the mysterious Shroud, as well as the new strange Relic Class, who pilots a mech from another age.
5. $650 Dollars: Fully Funded! Thanks for all your help!
Road-Map:
Now, the Quickstart contains basically everything one would need to sit down and run a session or two of Rustbuckets. But that doesn't mean that this document is static, unchanging, and permanent. Rather, as the months of funding continue on, newer features/mechanics will be added to the Quickstart. Also, this Road-Map will serve as a guide to when (roughly) the final version of Rustbuckets will launch. All dates are subject to change, but I will keep you updated here and on Twitter as needed!
1. Early July (1-8): NPC guide, mechanics, and examples added to Quickstart
2. Mid-June (10th-18th): Haven creation and Mission example added to Quickstart
3. July-August: Rivals mechanic added to Quickstart
4. End of August-September (30th-9th): Get the Itch Payout, begin layout work
5. October-November: Launch the Final Game
Purchase
In order to download this game you must purchase it at or above the minimum price of $10 USD. You will get access to the following files:
Rustbuckets Quickstart-Pages.pdf
2 MB
Rustbuckets Quickstart-Spreads.pdf
2 MB
Rustbuckets Quickstart Character Sheets.pdf
707 kB
Exclusive content
Support this game at or above a special price point to receive something exclusive.
Community Copy
Free Copies for People Who Cannot Afford to Buy the Quickstart! Feel free to take one! Also, any purchases over $15 will add more copies! If all the copies are gone, but you still want to check the game out, please contact me!